Friendship Class Leaving Footprint at CCSD59 Schools through Legacy Libraries
Friendship Junior High eighth grade teacher Kristin Hahn tasks each of her classes to come up with a project based around the core categories of language arts: reading, writing, speaking, and listening. The challenge begins with a simple question, albeit one that holds plenty of weight.
"We talk about this idea of a legacy. It is their eighth grade year, and they are role models for the younger kids," Hahn said. "How do you want to be remembered in this school and district?"
This prompt has led to the creation of the Firebird Feed newspaper and other written works. This year, one student thought: what if the project resulted in something physical that schools could share? The idea of building little libraries at neighboring schools was pitched, and the interest of the class piqued immediately.
"That was the spark that set the class erupting in excitement. It was a unanimous decision."
A visit to the Friendship classroom reveals how many layers this project holds. The students begin with a blank slate and have to organize the steps and timeline that will get them to their goal. This began with putting together a pitch for Dr. Fessler, CCSD59 Superintendent of Schools, and Principal William Timmins.
The motivation behind their idea was an easy sell.
"We want students to remember why reading is important," said Paige, an eighth grade student at Friendship. "We want to spread our love of reading to everyone and give them a chance to do so themselves."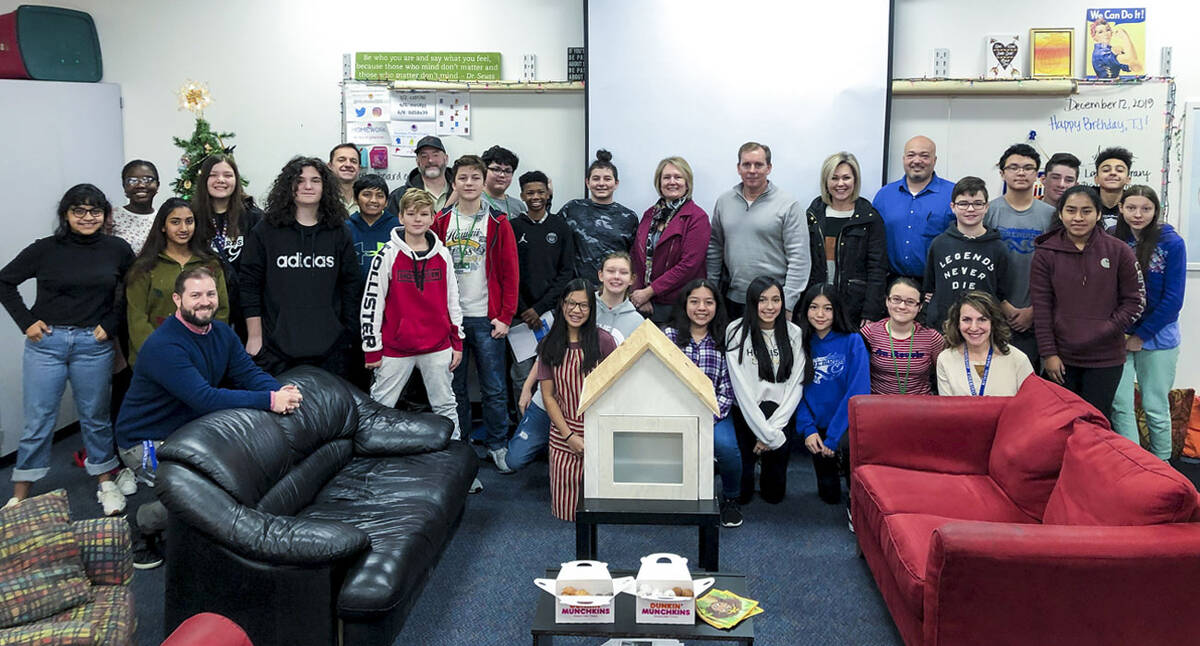 What started with one pitch became half a dozen over the coming weeks. The class decided to build little libraries outside four schools: Friendship, Brentwood Elementary, Devonshire Elementary, and the Early Learning Center. Making additions to that many schools meant another presentation to those principals and Facilities and Operations team members from the district. There, the students laid out their installation and communications plan.
Upon listening to the reasoning behind the proposal, principals were eager to make their own commitments.
"This is the only project we've done where there is a physical manifestation of our idea," said Mrs. Hahn. "That made this a project for the whole district community. The principals agreed the librarians and students will be in charge of maintaining them."
From there, the students could not simply hand off the construction phase to another party. The class divided into four committees: communications, video production, bookmark, and book drive, each of which is responsible for one school that will receive a library. They meet every Friday to give the class an update and brainstorm designs for their own structure.
Tanya, a member of the communications committee, described the particular challenge of partnering with the Early Learning Center. The group is making a concerted effort to have the setup appeal to young children.
"Sharing this project with everyone is a matter of pride. We are working on it for a year, and to be able to show that ambition is an amazing thing, to be honest."

– Aleks, Friendship Student
Each committee also plays its role in spreading the word and provides students with new endeavors. Collectively, the class is taking its first crack at creating a video to explain the libraries to younger students, crafting a press release to send to local newspapers and television stations, and designing several bookmarks that will live in the libraries.
Students must also think about the practical hurdles of building something from scratch.
"There are design and architectural challenges," said Aleks, an eighth grade student. "For example, you have to make sure rain funnels towards the ground and doesn't build up on the surface of the libraries."
That is where Joey Carbone, a Mount Prospect resident, enters the picture. Surrounding communities became aware of Carbone in September when ABC7 in Chicago featured his efforts to build mini-libraries around town through the Mount Prospect Mini Library Mission.
Mrs. Hahn contacted him through social media and recruited him for the project. After several meetings with the class, Carbone and students laid the timeline for the construction phase. The students insisted on building the libraries themselves and plan to meet at Carbone's workshop in the coming months to finally bring their work together. The project is slated to wrap up in the spring, with a dedication to soon follow.
"Sharing this project with everyone is a matter of pride," said Aleks. "We are working on it for a year, and to be able to show that ambition is an amazing thing, to be honest."